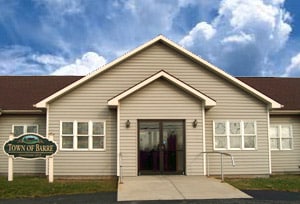 Town Hall & Administrative Offices
14317 West Barre Road
Albion, NY 14411
Phone 585-589-5100
Fax 585-589-2510
General Board Meetings
Please see the attached information regarding General Board Meetings.
                                                                  Residents of the Town of Barre
2nd Wednesday of every month @ 7 pm.
Workshop Meetings have been reestablished.
Workshops are canceled until further notice due to COVID-19
Due to the availability of the councilpersons, the workshops will be on the Thursday before a general board meeting at 5:30 pm.
Planning Board Meeting – canceled until further notice
2nd Monday of every month @ 6:30 pm
Zoning Board Meeting – canceled until further notice
Meets as needed
Court Sessions
The 1st, 2nd, and 3rd Thursday of the month at 6 pm
For additional information
Call 585-589-5100 ext. 107 after 4 pm on Court nights
Town Highlights
Heritage Wind's application has been received at the Town Hall.  Anyone wishing to look at it must call the Town Hall and make an appointment.
FOR THE SAFETY OF OUR RESIDENTS, THE BARRE TOWN HALL WILL BE CLOSED TO THE PUBLIC UNTIL FURTHER NOTICE.  TOWN PERSONAL WILL MAINTAIN REGULAR HOURS TO ANSWER ANY CALLS OR EMAILS. PLEASE USE THE DROP BOX TO THE LEFT OF THE FRONT DOOR FOR ANY PAYMENTS OR CORRESPONDENCE.  THANK YOU FOR YOUR COOPERATION DURING THIS DIFFICULT TIME.  PHONE 585-589-5100.
PER DIRECTIVE FROM THE OFFICE COURT ADMINISTRATIVE ALL COURT MATTERS ARE POSTPONED UNTIL FURTHER NOTICE.
Immediate Release Message Lynne M. Johnson
The County residential sales trend for 2019 was +3%.  Residential sales trend in Barre for 2019 was +10%.  Average  home values for 2020 will increase accordingly.  Change notices for 2020 will be mailed out in March with all instructions.
The Town of Barre has openings on both the Grievance Board and the Zoning Board of Appeals.  Please submit a letter of interest to the attention of the Town Clerk and either mailing it to the Town Hall or placing it in the drop box to the left of the front door of the Town Hall by the close of business on April 3rd.
A reminder that the Barre Betterment is hosing a Barre calendar photo contest.  Entry forms are available on the counter, our Facebook page link or ask a committee member.
FYI:  County of Orleans Department of Mental Health
Heritage Wind Notice of Submission of Application
With winter upon us, a reminder to all residents to please keep the snow away from the fire hydrants closest to your home if at all possible please.  This will save our fire personnel time in an emergency.
Information on bail reform Bail Reform
V & T Section 1219 addresses the issue of placing obstructions onto a highway V & T Section 1219
Barre Final Assessment Roll 2019
We still have Bicentennial t-shirts available for $10.00.  We also still have historical books available for $10.00.  Please see the Town Clerk during normal business hours to make your purchase.
"Know your Facts USA" is recording our Town Board meetings as well as informational gatherings and providing the recordings to the town.  For those town residents that are unable to attend a meeting and wish to be informed please click on the link shown here:  http://knowyourfactsusa.org/category/barre-townhall/
Barre Final Assessment Roll 2018
Barre Final Assessment Roll 2017
– For those desiring genealogical information, please contact Hollis Canham of the County Genealogical Society. The Town Historian does not have such information.