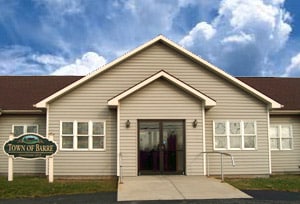 Town Hall & Administrative Offices
14317 West Barre Road
Albion, NY 14411
Phone 585-589-5100
Fax 585-589-2510
General Board Meetings
2nd Wednesday of every month @ 7 pm.
The Town Board meeting on August 12th will be back in the court room.  There will be a limited number of town residents allowed in as per covid guidelines.  The meeting will also be available for listeners by calling the town hall 589-5100, enter 5 and then 4321#.
Town Board Workshops are on an as needed basis. 
Due to Covid-19 we will follow the same protocol as Town Board meetings.  Dates will be listed here when they are scheduled.
October 14th at 5:00 pm prior to the general board meeting.  Remember to follow the town board meeting protocol.
Planning Board Meeting – are on an as needed basis
There will be a meeting on September 14th @ 6:30 pm
The meeting is closed to the public.  However, you may virtually attend.   For instructions to virtually attend, please click here: PLANNING BOARD MEETING PROCEDURES
Zoning Board Meeting
Meets as needed.
Court Sessions
The 1st, 2nd, and 3rd Thursday of the month at 6 pm
For additional information
Call 585-589-5100 ext. 107 after 4 pm on Court nights
Town Highlights
COVID Guidelines Orleans Midget League2
AES DE Solar Proposal-Town of Barre for the Town Park-08.10.20
Attention water district 9 residents:  Sergi Construction is installing the curb stops which residents hook up to.  This process will take a couple of weeks.  Approval is still needed from the County Health Department before anyone can hook up.
THE TOWN HALL DOORS ARE NOW UNLOCKED AS OF JUNE 15TH DURING NORMAL BUSINESS HOURS..  PLEASE FOLLOW ALL HEALTH PROTOCOLS WHEN ENTERING AND INSIDE THE TOWN HALL. YOU MAY STILL USE THE DROP BOX OR CALL AND MAKE AN APPOINTMENT.  PLEASE CONTINUE TO CONTACT  THE BUILDING INSPECTOR/CODE ENFORCEMENT OFFICER  AND MAKE AN APPOINTMENT.   THANK YOU FOR YOUR COOPERATION. 
PER DIRECTIVE FROM THE OFFICE COURT ADMINISTRATIVE ALL COURT MATTERS ARE POSTPONED UNTIL FURTHER NOTICE.
TOWN OF BARRE SPECTRUM CABLE MAP  Please note that the pinkish lines are where the new fiber optic connections are going.
For the most updated information on opening Orleans County and New York State please click:   https://forward.NY.gov  
 2020 Barre Tent Roll notice         Barre Tentative Assessment Roll 2020
Heritage Wind's application has been received at the Town Hall.  Anyone wishing to look at it must call the Town Hall and make an appointment.
Immediate Release Message Lynne M. Johnson
A reminder that the Barre Betterment is hosing a Barre calendar photo contest.  Entry forms are available on the counter, our Facebook page link or ask a committee member.
FYI:  County of Orleans Department of Mental Health
Heritage Wind Notice of Submission of Application
Information on bail reform Bail Reform
V & T Section 1219 addresses the issue of placing obstructions onto a highway V & T Section 1219
We still have Bicentennial t-shirts available for $10.00.  We also still have historical books available for $10.00.  Please see the Town Clerk during normal business hours to make your purchase.
"Know your Facts USA" is recording our Town Board meetings as well as informational gatherings and providing the recordings to the town.  For those town residents that are unable to attend a meeting and wish to be informed please click on the link shown here:  http://knowyourfactsusa.org/category/barre-townhall/
– For those desiring genealogical information, please contact Hollis Canham of the County Genealogical Society. The Town Historian does not have such information.