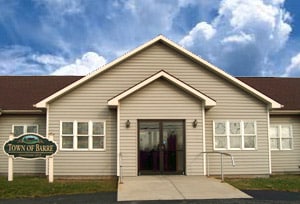 Town Hall & Administrative Offices
14317 West Barre Road
Albion, NY 14411
Phone 585-589-5100
Fax 585-589-2510
General Board Meetings
2nd Wednesday of every month @ 7 pm.
There will be no further Workshop Meetings
Planning Board Meeting
2nd Monday of every month @ 6:30 pm
Zoning Board Meeting
Meets as needed
Court Sessions
The 1st, 2nd, and 3rd Thursday of the month at 6 pm
For additional information
Call 585-589-5100 ext. 107 after 4 pm on Court nights
Town Highlights
The State DOT has started working on Route 98 from Rout 31A to Puzzey Road.  They should be finished within a week.
The Planning Board will be holding public hearings on June 10th starting at 6:30 pm to consider the application of a modification special use permit
Pursuant of Article V Section 350-22 D (17), on property located at 5309 Eagle Harbor Road and to consider the application of a modification special use permit Pursuant of Mining/Excavation on property located at Oak Orchard Road.
We still have Bicentennial t-shirts available for $10.00.  We also still have historical books available for $10.00.  Please see the Town Clerk during normal business hours to make your purchase.
The Planning Board at the request of the town board is in the process of developing a solar law policy.  The proposed policy has been given to the Town Board at this time.   If you have any comments/questions, please contact any of the following Planning Board members; Wes Miller, Jean Peglow, John Depatie, Kurk Dudley, Kirk Mathes, Steve Harling or Dr. George McKenna or a Town Board member.  Please click on the link to see the proposed law.  Draft Solar Proposed Law 2019
Heritage Wind's final proposal for wind energy modifications:  Proposed Amendments to Barre Wind Law
Barre Community – Heritage Wind – Survey Results Memo & Summary
"Know your Facts USA" is recording our Town Board meetings as well as informational gatherings and providing the recordings to the town.  For those town residents that are unable to attend a meeting and wish to be informed please click on the link shown here:  http://knowyourfactsusa.org/category/barre-townhall/
Water District 8 residents are now able to hook up to the water.  The home owner may come in to the Town Clerk to sign up and obtain their water meter.
Barre Final Assessment Roll 2017
Niagara and Orleans counties to receive 95% broadband coverage Read more…
– Getting neighbors together makes solar power easier to install, and more affordable than ever. Read more about "Solarize Orleans".
– For those desiring genealogical information, please contact Hollis Canham of the County Genealogical Society. The Town Historian does not have such information.