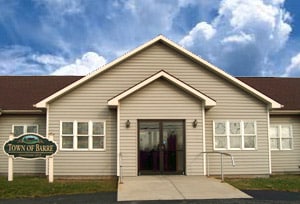 Town Hall & Administrative Offices
14317 West Barre Road
Albion, NY 14411
Phone 585-589-5100
Fax 585-589-2510
General Board Meetings
2nd Wednesday of every month @ 7 pm.
There will be no further Workshop Meetings
Planning Board Meeting
2nd Monday of every month @ 6:30 pm
Zoning Board Meeting
Meets as needed
Court Sessions
The 1st, 2nd, and 3rd Thursday of the month at 6 pm
For additional information
Call 585-589-5100 ext. 107 after 4 pm on Court nights
Town Highlights
PLEASE NOTE THAT THE TOWN PLANNING BOARD HAS CANCELLED THE MEETING FOR THIS EVENING.
The Zoning Board of Appeals will be meeting on July 15th to hear an application for an area variance for an addition to the home at 5338 Oak Orchard Road Elba.
Barre Final Assessment Roll 2019
A public hearing was held on July 2 at 6 pm on the proposed Solar Energy Systems law at the Town Hall.  There were some edits made and it will be posted when it has been updated.  The proposed law submitted to the County planning board was Solar Proposed Law 2019
We still have Bicentennial t-shirts available for $10.00.  We also still have historical books available for $10.00.  Please see the Town Clerk during normal business hours to make your purchase.
Heritage Wind's final proposal for wind energy modifications:  Proposed Amendments to Barre Wind Law
Barre Community – Heritage Wind – Survey Results Memo & Summary
"Know your Facts USA" is recording our Town Board meetings as well as informational gatherings and providing the recordings to the town.  For those town residents that are unable to attend a meeting and wish to be informed please click on the link shown here:  http://knowyourfactsusa.org/category/barre-townhall/
Water District 8 residents are now able to hook up to the water.  The home owner may come in to the Town Clerk to sign up and obtain their water meter.
Barre Final Assessment Roll 2017
Niagara and Orleans counties to receive 95% broadband coverage Read more…
– Getting neighbors together makes solar power easier to install, and more affordable than ever. Read more about "Solarize Orleans".
– For those desiring genealogical information, please contact Hollis Canham of the County Genealogical Society. The Town Historian does not have such information.