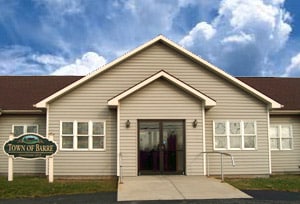 Town Hall & Administrative Offices
14317 West Barre Road
Albion, NY 14411
Phone 585-589-5100
Fax 585-589-2510
General Board Meetings
2nd Wednesday of every month @ 7 pm.
Workshop Meeting
1st Wednesday of every month @ 7 pm
Planning Board Meeting
2nd Monday of every month @ 6:30 pm
Zoning Board Meeting
Meets as needed
Court Sessions
The 1st, 2nd, and 3rd Thursday of the month at 6 pm
For additional information
Call 585-589-5100 ext. 14 after 4 pm on Court nights
Town Highlights
The Zoning Board of Appeals will be meeting on Monday July 16 for an area variance pursuant to Article V Section 350-24 F 1 B for property located at 4564 Oak Orchard Road.
Heritage Wind Survey Click here for a direct link to Survey Monkey. There will be a community forum at the Town Hall on Wednesday, July 18th at 6 pm.
Water District 8 residents are now able to hook up to the water.  The home owner may come in to the Town Clerk to sign up and obtain their water meter.
The Town of Barre has received a check in the amount of $154,000.00 from the State of New York through the efforts of Senator Robert Ortt. The money helps to offset the cost of the Town's newest snowplow truck which exceeded $200.000.
Barre Final Assessment Roll 2017
Niagara and Orleans counties to receive 95% broadband coverage Read more…
– Getting neighbors together makes solar power easier to install, and more affordable than ever. Read more about "Solarize Orleans".
– For those desiring genealogical information, please contact Hollis Canham of the County Genealogical Society. The Town Historian does not have such information.
– Adrienne Daniels, town historian, is looking for residents of Barre who are interested in compiling data from the town's past. A publication of the History of Barre will be compiled for the Town's bicentennial in 2018. Contributions will be greatly appreciated. If you have old photos, newspaper articles, family history or any memorabilia connected with the Town that you would like to share or display, please contact Adrienne at 585-589-5100 ext 1 during regular office hours.